New to wigs? Here's how to choose your wig
With dozens of wigs and hundreds of colours, choosing a wig is great fun, but can be confusing. If you're a first-time wig wearer, start as you mean to go on – with style!
Our guide will help you select the best wig for you and will take you through:
And remember — our expert consultants offer great free advice and support.
Choosing your hairstyle
Finding your favourite style is the best way to begin your search. There are two main options:
a similar style to your usual style
something new and different.
We recommend starting with a familiar style, and leaving dramatic changes for when you're used to wearing a wig.
For more help, see our page on Styling tips for all face shapes.
How to choose your wig size
Our wigs come in Petite, Average, and Large. Our Average size fits 95% of people. All our styles are available in Average. Selected styles are available in Petite and Large.
All wigs feature adjustable Velcro tabs, which can make the cap up to 2.5 cm or about ½" larger or smaller, for a comfortable, secure fit.
All our wigs have two adjustable Velcro straps with about one inch give, so the wig can be tightened or slackened.
How to get an accurate measurement
First, smooth or flatten down your hair.
Use a cloth tape measure.
Measure from your front hairline to just above your ear, around to your nape, up to above your other ear, and back up to your front hairline again.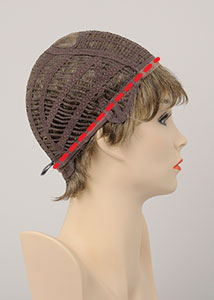 | | |
| --- | --- |
| Measurement | Cap Size |
| Up to 21 " or 53 cm | Petite |
| 21–23 " or 53–57 cm | Average |
| 23" and over, or 57 cm and over | Large |
Difference between Human Hair and Synthetic wigs
All our wigs are made of top-quality synthetic hair. Both human hair and synthetic hair have benefits and limitations. Neither one is 'better' – the right choice will depend on your situation. Whichever you choose, you will look beautiful and well-groomed.
Benefits
The most natural looking
Versatile – can be styled, cut, permed or coloured
More durable and long-lasting than synthetic wigs
Cap constructed with hair cuticles running in same direction, reducing tangling
Higher price, due to careful collection and processing of hair
Limitations
More expensive than synthetic hair
Requires more care, and must be shampooed, dried, conditioned and styled
May frizz in humid conditions.
Benefits
Also very natural looking
Pre-styled – convenient, and ready to wear
Low maintenance
More affordable than human hair wigs
Can be serviced to extend life and restore condition
Limitations
Colour and style cannot be changed, except for parting and wearing back from face
Heat sensitive – must be kept clear of any heat source
Less durable than human hair wigs — synthetic wigs last about a year.
Cap construction for the best comfort
The cap is the part of the hair replacement that the hair is attached to. They are different cap constructions. Each cap type has its own advantages.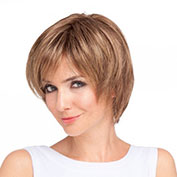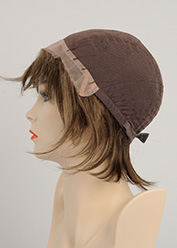 100% Hand –Tied
Each hair carefully hand-knotted onto a fine tulle base
The most natural look available
Hair can be styled or combed in any direction
When parted, hair looks like it's growing straight from the scalp
The most lightweight and comfortable cap available
The most gentle wig for a sensitive scalp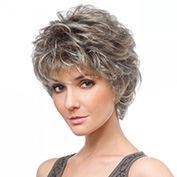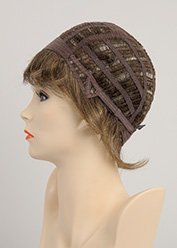 Monofilament
Each hair on monofilament section is hand-tied to a sheer, soft base
Available as a monofilament parting only, monofilament crown only, or as a full monofilament top for styling versatility
The higher the monofilament area, the more expensive the wig will be
When parted, hair looks like it's growing straight from the scalp
Hair on a monofilament top can be parted in any direction
Very popular and natural-looking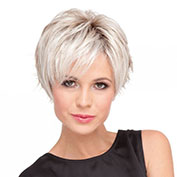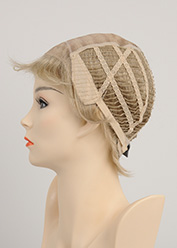 Lace Front
Features amazingly natural-looking front hairline
Hair can be styled away from the forehead
Hair is hand-tied to a sheer lace base at the front of the cap
Lace fabric needs gentle care and handling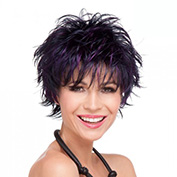 Wefted Cap
Popular and affordable
Hair is machine-sewn onto soft, stretchy fabric strips
Light, cool and comfortable – wefting gives great ventilation
Styles often feature volume and lift at the crown, with teasing at the roots so that wefting can't be seen
Durable and easy-care
Choosing your colour with confidence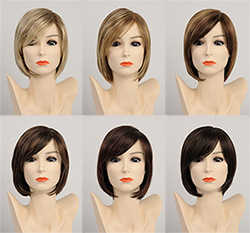 A flattering colour can make you look fabulous!
We know that choosing the right colour for your wig is vital. The right colour can change you from drab — to fab! Whether you want a dramatic look or a shade close to your natural colour, this will help you make a wonderful choice:
Each wig style is shown with photos of its available shades.
We've captured these shades as accurately as possible.
And if in any doubt, you can always call our fabulous Colour Consultants.
See further details on our page on Choosing your colour with confidence