How to wash and care for your synthetic hair wig
Wigs made of synthetic hair are super easy-care and ready-to-wear. We always receive questions about optimal care products and intervals. In the video below by Ellen Wille, they answer many of your questions and show you in a step-by-step guide how to wash wigs made of synthetic hair. You can also follow our step by step instructions for washing and caring for a synthetic wig below the video.
How often should synthetic hair be cleaned?
The suggested cleaning frequency of synthetic wigs depends on the intensity of use. Regular care increases the lifespan of the synthetic hair wig or hair piece and ensures that you can enjoy your natural shine for a long time. Our recommendation for daily, average use is to clean synthetic hair about once or twice a week. We recommend the use of Ellen Wille care products, and storing your wig on a wig stand when not in use for longevity.
Step by step instructions
Follow our step by step instructions below to ensure the best washing technique and care routine for your synthetic hair wig.
1. De-Tangle
Before you wash, be sure to carefully detangle the hair using a wide tooth comb.
Lightly brush through and gently remove any tangles using a wide tooth comb/brush.
Do not pull or drag the fibre ….be gentle!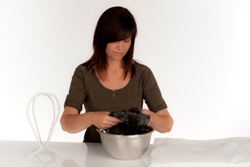 4. Condition
Soak the wig in the water mixed with the conditioner for about 10mn. (Don't apply the conditioner directly to your wig)
Rinse by immersing the wig once more in fresh cold water.
You may also like to use a synthetic wig balm product.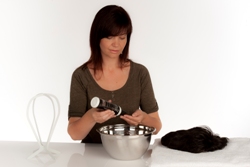 2. Wash
Fill a bowl with LUKE WARM water (never hot, as heat damages fibres).
Mix a capful of shampoo into the water.
Turn your wig inside out.
Immerse your wig and allow it to soak for ten minutes (never rub, squeeze or wring your wig).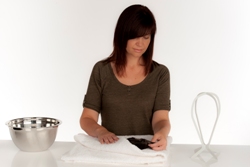 5. Towel dry
Place the wig between a folded towel and pat dry.
Never squeeze, rub or wring your wig while drying.
Remove from towel.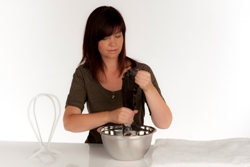 3. Rinse
Immerse your wig in a fresh bowl of luke warm water to remove shampoo.
Do NOT rub, squeeze or wring your wig.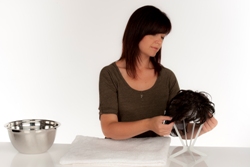 6. Style and hair dry
Gently shake the wig to regain its style. Alternatively, lightly style it with a wig comb or your fingers.
Place wig on a folding wig stand or over the mouth of a large jar or vase to dry naturally. Never use a hair dryer, as heat damages synthetic fibres.